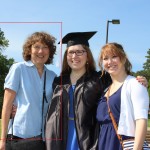 Update: Thursday morning
KMAN has received word of a volunteer search effort for the missing St. George woman, this coming Saturday. The search for Jane Peterson will begin at 10:15 Saturday morning at the Tuttle cove boat dock. Volunteers are asked to meet at the tuttle Cove parking lot by the boat dock. Those who want to help in ways other than actively participating can donate water, granola bars and other snack foods for those who will be searching. Those items can be dropped off at Brooks Yamaha on highway 24 on the east side of Manhattan Thursday and Friday.
Pottawatomie County Sheriff's Office and the Riley County Police Department are still seeking information on the whereabouts of Jane Peterson reported missing Sunday morning. As reported earlier, a pickup believed to have last been driven by Jane Peterson was located in the Tuttle Cove area of Tuttle Creek  Monday evening.
A resident of the area noted the pickup parked at this location Sunday around noon and saw three teen-aged people also in the area who were skate boarding. The Sheriff's Office and Riley County Police are asking these three to contact either of their agencies.
The three may unknowingly have information that may help Law Enforcement locate Jane Peterson. The Pottawatomie County Sheriff's Office number is 457-3353 and the Riley County Police number is 539-7777.
A grid search involving 200 people, including 60-70 from Fort Riley, was called off Tuesday evening after unsuccessful attempts to find Peterson.