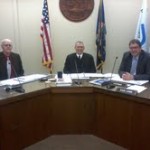 Monday morning's Riley County Commission meeting press conference was full of various upcoming events.  This is expected this time of year as students return to Kansas State University.
Riley County Police Captain, Kurt Moldrup took the time to comment on this Friday's opening game of the Kansas State University football season.  Traffic flow near Bill Snyder Family Stadium is almost guaranteed to cause delays, and Moldrup mentioned the department has been working on various safety plans.
If you are not attending the football game, and just intend to use the streets near the stadium on Friday evening, Moldrup recommended using an alternate route.  For individuals that need to access those roads due to an emergency, the department has planned emergency routes to and from Mercy Regional Health Center.  If you happen to find yourself in need of emergency medical assistance that evening, Moldrup recommends telling the nearest officer that you are in need of help, and they will utilize the emergency routes.
With construction still underway throughout Poyntz and Bluemont, traffic could be impacted in other areas as well.  Both projects are still set to conclude in October.  There is a possibility the projects could be put on hold during the next few home football weekends.  Brian Johnson with City of Manhattan Public Works, said there is a three week period in September when the football team will be on the road or be off.  During that frame of time, the crews hope to get a large chunk of work completed.
————
County Clerk, Rich Vargo has experienced quite a few phone calls to the county clerk's office about hunting season.  Various seasons start and end at different times, and Vargo mentioned a few of the most requested seasons:
dove season-begins September 1st
pheasant/quail-begins November 9th
antelope-begins September 21st
duck-starts October 6th
canadian goose-starts October 26th
———–
County Commission Chair, Dave Lewis presented employees of Pawnee Mental Health Services with a proclamation to declare September as National Recovery Month.