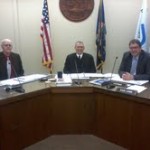 After several concealed carry discussions, during previous Riley County Commission meetings,  the commission finally viewed the confidential security plan that would exempt four county buildings from the law.
County Counselor, Clancy Holeman has been working on the language, and presented it to the commission during their Thursday meeting.
Commission Chair, Dave Lewis described the law as a "frustrating situation", but said "this is a good plan".
The commission unanimously approved the security plan, and it will officially go into effect on January 1st.
————
The commission also approved the 2013 budget amendment, immediately following the public hearing.
Budget and Finance Officer, Johnette Shepek went over each fund needing a budget amendment.  Some of those funds are listed below:
county auction fund
CIP fund
RCPD fund
bond and interest fund
county building fund
1/2 cent sales tax fund
————-
Approval was also granted for the KDHE Solid Waste Transfer Station permit.  Commission Chair, Dave Lewis signed the first page of the permit, but David Kreller, of Midwest Medical Waste Inc., will have a few other hoops to jump through before returning to the county commission.
————-
The commission will not be in session on Monday, December 30th.  Their next meeting will be Thursday, January 2nd.