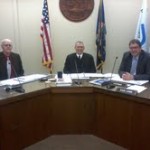 As Congress members continue to disagree, we have almost made it to a complete two weeks of the government being shutdown.  Impacts in Washington D.C are evident, but impacts are happening here in Manhattan as well.  Riley County Health Department staff members received disappointing news yesterday, which is a direct result of the shutdown.
County Health Department Director, Brenda Nickel told commissioners, during their Thursday meeting, the state of Kansas had been lucky the past few weeks because the government shutdown had not yet impacted health services, but people that use WIC will be impacted until the shutdown is over.
Although people can still redeem their October checks through the end of the month, any November and December checks will not be redeemable until further notice.
Over 3,100 use the Woman, Infant and Child program in the county.  The program allows families to purchase certain food items, such as milk, cheese, formula, etc., if they need the assistance.  Nickel explained the checks are very specific in what you can pick out.  Many of the checks say what brand, what product, and what size container you are allotted with the check.
Not only is the government shutdown impacting the health department, but it also seems to be directly impacting retail sales.
Manhattan Chamber of Commerce President, Lyle Butler said "it is having some impacts on our local economy.  If someone is going to furlough you, you aren't going to go out and make big purchases."
Butler visited several small businesses, and they all seemed to report small declines in sales.