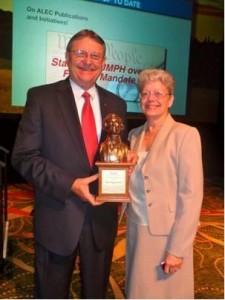 St. Marys Rep. Richard Carlson was named a recipient of the American Legislative Exchange Council's "Legislator of the Year" Award at the organization's annual meeting in New Orleans, LA on August 5th, 2011.
"I am pleased to recognize Rep. Richard Carlson, as a Legislator of the Year, and would like to thank him for his outstanding dedication to our organization," said ALEC National Chairman Noble Ellington (LA).   Rep. Richard Carlson is to be commended for his leadership, and I feel fortunate to have had the opportunity to work with such committed individuals like Rep. Carlson over the past year."
The "Legislator of the Year" Award is given to state legislators who are ALEC members in good standing and have distinguished themselves by taking a leadership role in advancing, introducing and/or enacting policies based on the fundamental Jeffersonian principles of free markets, limited government, federalism and individual liberty.
Rep. Richard Carlson was honored with the award for his work in tax and fiscal policy promoting limited government and fiscal responsibility in Kansas government. His leadership role as Chairman of the Kansas House Taxation Committee and as a member of the House Appropriations Conference Committee were instrumental in helping Kansas retain its fiscal integrity and his work on tax policy moving Kansas towards a pro-growth, pro-job, state.
"I am honored to receive this award from fellow legislators across the nation"  Carlson said.  " ALEC is the nations leading legislative organization promoting limited government and its 200 plus private sector businesses are among the top companies in the world."
The American Legislative Exchange Council (ALEC) is the nation's leading nonprofit, nonpartisan organization.