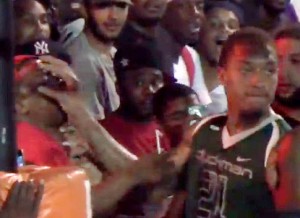 NEW YORK (AP)   Michael Beasley shoved a heckler in the face with his hand during a playground game. In the second half of a summer league game at Dyckman Park in Washington Heights, Beasley was jawing back and forth with a fan who was getting on his case. Then Beasley shoved the fan's face and security intervened. A guard and teammates led the former K-State star away from the fan, though Beasley later shook the fan's hand.
Adris De Leon, a neighborhood legend known as '2 Hard 2 Guard' and who plays for Team Nike, thought Beasley was out of line for going after the fan.  De Leon said that playing in that type of atmosphere, you have to be ready to be taunted by the fans.
Beasley's Team 914 eventually beat Kevin Durant's Team Nike 80-77, though the Oklahoma City star scored 32 points.  On Monday night, Durant scored 66 points at Harlem's famous Rucker Park.   Beasley scored 21 points on Thursday night.