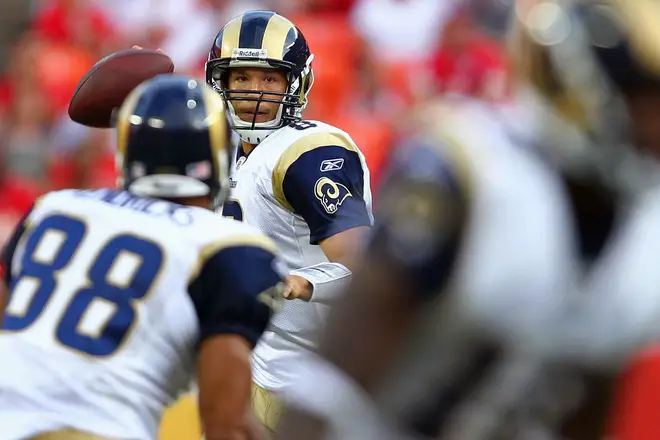 KANSAS CITY, Mo. (AP)—Sam Bradford led the St. Louis Rams to a pair of touchdowns, and their defe  nse made life miserable for Kansas City Chiefs quarterback Matt Cassel in a 14-10 preseason victory Friday night.  Bradford was 8 of 8 for 76 yards on his first two series, with scoring passes of 6 yards to Mike Sims-Walker and 11 yards to rookie tight end Lance Kendricks. Bradford finished with 95 yards passing in his most significant dress rehearsal before the Rams' opener against Philadelphia.   When the reigning NFL offensive rookie of the year wasn't slicing up the Chiefs' struggling defense, Steven Jackson was pounding it into submission. The big running back carried 15 times for 72 yards as St. Louis coach Steve Spagnuolo played his starters the entire first half.
The Chiefs also played their first team until halftime, with much different results.  Cassel was 6 of 13 for 59 yards and was sacked for an 11-yard loss, while Kansas City's top-ranked rushing attack produced just 14 yards on six first-half attempts. Jamaal Charles and Thomas Jones, who combined for 2,363 yards rushing in 2010, each carried twice for 8 yards.
The only highlight in the first half for the Chiefs was linebacker Derrick Johnson, who dropped several would-be interceptions a year ago. Johnson leaped in front of Bradford's misguided pass late in the first quarter and held on at the Rams 7. Kansas City wound up going a yard in the wrong direction on offense before settling for Ryan Succop's 26-yard field goal.