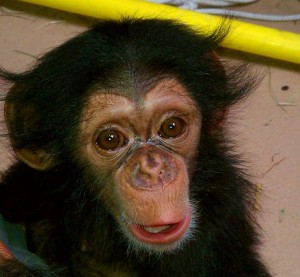 Susie, a 56-year-old chimpanzee, made headlines last year when she gave birth to a baby named Siri last year at Sunset Zoo in Manhattan.
But since then, things for that family have changed.
Ella Todd, Marketing Development Officer with the Sunset Zoo, talks about having to send Siri to Oklahoma, to get more nourishment from a younger surrogate mother.
The Oklahoma Zoo is hoping to present Siri to the public in the spring.
Oklahoma news reports indicate Siri weighed only three and a half pounds when she arrived at the zoo, which was a newborn weight for an eight month old. She also lost  part of an arm during a freak accident, when surrogate mother Kito got so excited while adoring the little chimp, that she tried to pull her through fence-like mesh that separated them.  But Kito has been a good surrogate, according to zoo officials and Siri is growing steadily and healthy now.