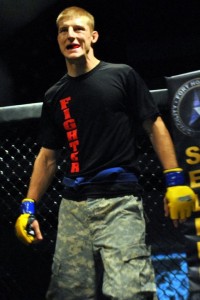 An Army lieutenant with the Combat Aviation Brigade, 1st Infantry Division, finished near the top of his class in this year's All-Army Combatives Tournament at Fort Hood, Texas.
The tournament was hosted at Fort Hood from July 20 to July 23 to challenge competitors from around the Army in the Modern Army Combatives Program.
Second Lt. Matt Valnoski, a Soldier with the brigade's 601st Aviation Support Battalion, fought his way to the third place match for the 155 lb. welter weight category.
Valnoski was placed in the fight by default after one of the Soldiers originally scheduled to compete suffered an injury. He lost the match, making his final finish in fourth place.
Though he narrowly missed the podium, the 23-year-old Allentown, N.J., native said the competition was worth every minute.
Valnoski is a supply officer in his unit, but has an extensive background as a fighter. In high school, Valnoski received the U.S. Marine Corps Distinguished Male Athlete Award, as well as a varsity letter in wrestling. Afterward, he received a small scholarship to attend Norwich University in Vermont, where he continued to compete in collegiate wrestling for four years.
Team results and points
1. III Corps (Fort Hood), 462
2. Fort Riley, 385
3. Fort Stewart, 328
Cruiserweight (185 pounds)
Capt. Brandon Bear (Fort Riley) def. Spc. Brian Wilson (Fort Stewart), technical knockout
Third place: Staff Sgt. Leonard Lane (5th Special Force Group, Fort Bragg) def. Sgt. Jason Reyes (III Corps), unanimous decision
Heavyweight (206+ pounds)
Spc. Aaron Jackson (Joint Base Lewis-McChord) def. Staff Sgt. Braden Simont (Minnesota National Guard), technical knockout
Third place: Staff Sgt. Lonnie Kincaid (Fort Riley) def. Pfc. Jeremy Myers (Fort Stewart), technical knockout
Lightweight (140 pounds) –Pvt. Joseph Sandstrom (Fort Riley) def. Pfc. Hanlin Liu (Fort Stewart, Ga.), unanimous decision
Third place: Staff Sgt. Benjamin Westrich (Fort Carson) def. 2nd Lt. Nathan Gelinas (Maneuver Center of Excellence, Fort Benning, Ga.), split decision
Flyweight (125 pounds)
Sgt. 1st Class Jesse Thorton (III Corps) def. Sgt. Francisco Mercado (Fort Bragg, N.C.), knockout
Third place: Sgt. Moody Nelson (Military District of Washington) def. Spc. Juan Martinez (Fort Riley, Kan.), unanimous decsion
Additionally, one of the coaches fights Aug 26 in JC for VFC. Joe"  the Nose" Wilk is a professional MMA fighter with a record of 12:5, he's been on several nationally televised events. He lives and trains in Manhattan. Other local fighters that night include Jake "the Librarian " Lindsey, Nick "Taco" Garrett, Josh "Slipknot" Pfiefer, and lastly Gregg Van De Creek, a Junction City Fire Fighter, half of the money he raises from ticket sales is to be donated to MDA.