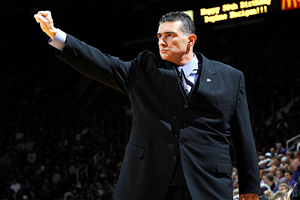 The 18-game double round robin schedule in the new Big 12 will be a nine-week grind each winter.  The K-State men will start the new format in the gym most unkind to visitors; Allen Field House against rival KU.  The Cats and Jayhawks will meet at 7:00 pm on Wednesday, January 4th in Lawrence, which will not be on ESPN, but the syndicated Big 12 Network.  K-State and KU will play on the four-letter network in a previously announced Big Monday tilt on February 13th at Bramlage Coliseum.
The Cats will make their Big 12 home debut on Saturday, January 7th against Missouri.  Senior Day will be on Saturday, March 3rd against Oklahoma State.  Other Saturday games at Bramlage Coliseum will be Oklahoma on January 28th, Texas A&M on February 4th, and Iowa State on February 25th.
K-State will be on the ESPN networks six times during Big 12 play and the Big 12 Network seven times.  The Cats are guaranteed two games on ESPNU in the Diamond Head Classic in Hawaii.  The rest of the possible television assignments will be announced at a later date.