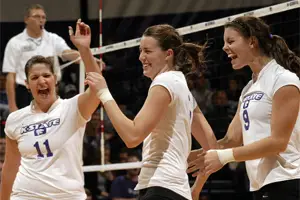 (Courtesy K-State Sports Information)
ATLANTA, Ga. – The Kansas State Wildcats pushed the Louisville Cardinals on Saturday morning at the Georgia Tech Courtyard Classic, but they could not slow them down enough in the final stretch of each set before falling in three straight. K-State dropped the match to the Cardinals 12-25, 21-25, 20-25 as Louisville's block was too much for the Wildcats and proved why the Cardinals are receiving votes in the AVCA Top 25 Poll.
Louisville's top returner Gwen Rucker helped lead the front line at the net tally 10 blocks in the match with a string of blocks coming at key moments twice in the match. Rucker also led the Cardinals with 10 kills on a .500 hitting percentage while Louisville hit .301 for the match. K-State was led by sophomore outside hitter Lilla Porubek with 10 kills, and sophomore middle blocker Kaitlynn Pelger pounded out eight kills. Their efforts were not enough as the Wildcats hit just .070 as a team thanks to the Louisville block.
The Wildcats could not get into a rhythm in the first set against the Cardinals as Louisville slowed the attack thanks to four blocks in the opening stanza. All four of those blocks came in a row to give Louisville a 9-5 lead, and the Cardinals would not surrender that lead the remainder of the set. K-State's defense also struggled with receiving Louisville's serve in the first set giving up six aces.
K-State battled with Louisville in the second set as both teams exchanged blows with Pelger and Porubek finding the floor with four kills apiece. Louisville had five kills from Rucker, but it was again the Cardinals' block that kept K-State at bay. Louisville posted four blocks again in the second to take the 2-0 lead into the intermission.
The third set was similar to the second in that K-State would fall behind and fight its way back to tie the score up multiple times. Every time the Wildcats did so, however, the Cardinals answered the bell with a run of their own to again paint K-State into a corner.
The Wildcats went on three back-to-back runs of three straight points for a 9-4 run to tie it up at 18 points apiece. After exchanging service errors, Louisville would start hammering away with its serve to score five straight points and hold match up at 24-19. A kill by Loloa Arslanbekova ended the match in three straight sets with two of them coming down to the wire.
K-State will finish its action at the Georgia Tech Courtyard Classic at 3:30 p.m. Central from O'Keefe Gymnasium against Tennessee Tech before returning home to take on Creighton on Tuesday at 6 p.m. for the Wildcats' home opener. The match against Tennessee Tech can be heard on 1350 KMAN