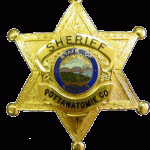 Several police agencies assisted in the arrest of a St. Mary's woman Thursday.
According to Pottawatomie county Sheriff Greg Riat, the Pottawatomie County Sheriff's Office, St.Mary's Police Department and the Wamego Police Department executed a search warrant at the residence of 1225 Pawnee Street, St.Mary's. As a result of this warrant, Investigators located two suspected methamphetamine labs.
Members of the above agencies, as well as the Riley County Police Department and the KBI are  processing the suspected labs. Only one female has been taken into custody at this time.