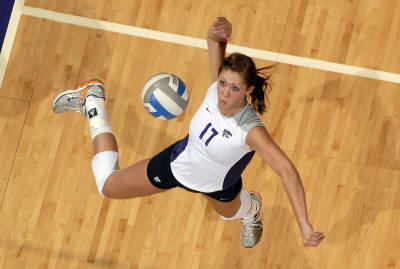 Staff Reports
ATLANTA, Ga. – The Kansas State Wildcats battled hard with the Georgia Tech Yellow Jackets to open the season but came up just short falling in four sets 25-19, 15-25, 23-25, 25-27 in an exciting match in front of a loud and packed O'Keefe Gymnasium at the Georgia Tech Courtyard Classic. Sophomore middle blocker Kaitlynn Pelger had a career-high 21 kills in the loss, but it was not enough for the Wildcats to get the win.
K-State came out of the gate firing scoring kills on each of the Wildcats' first five swings to take a 5-3 lead. The sophomore tandem of Lilla Porubek and Pelger shined for the Wildcats with Porubek providing smart kills as Pelger pounded away at the Yellow Jackets.
In the opening set, K-State was able to slow the Yellow Jackets down with solid defense. That allowed Porubek to post seven kills in the opening stanza alone, while Pelger notched five on five swings for a perfect hitting percentage. Sophomore outside hitter was also perfect on three swings to help the Wildcats hit .586 for the set en route to the 25-19 win.
The roles were reversed in the second set after Pelger was able to pound away for three quick points. After that, Georgia Tech was able to score four straight points and take a 10-6 lead. Tech would continue hitting strong with Mead and Hunter providing most of the attack to win 25-15 and enter the locker room tied at one set apiece.
K-State could not maintain the high efficiency rate of the first set in the second falling to .308 for the second and dropping the match total to .455. Georgia Tech on the other hand hit .462 in the second set to bring its match total to .385. Mead tallied seven kills in the second set with no errors to boost her hitting percentage as well.
Georgia Tech was led by its top returning player from a year ago as Monique Mead tallied 20 kills. She was joined in double digits by Bailey Hunter with 15 kills. Jennifer Percey also had 10 kills. Pelger was stellar on defense as well posting a double-double with 14 digs to go with her career-high 21kills. Pelger was efficient hitting at a .395 clip. Kathleen Ludwig and Porubek were also in double digits for kills with 12 and 11 respectively. Caitlyn Donahue had a solid performance at setter as well for the Wildcats tallying 45 assists.
The Wildcats had Georgia Tech backed into a corner with a 19-15 lead in the third set before a quick 3-0 run would pull the Yellow Jackets within a point. From there Georgia Tech would hold onto the momentum and outscore K-State 7-4 after a timeout to win the third set 25-23. Georgia Tech posted two blocks in a pivotal four-point run to establish set point.
In the fourth set, K-State held a lead only to see it disappear after Georgia Tech scored six straight points to reclaim the lead 14-11. The Wildcats could not put together a long run in the set as they failed to score more than two points in a row at any point in the set. Georgia Tech went on another run late to go ahead 21-19. The teams then went back and forth again with each having at least one set point. K-State could not force a decisive fifth set, however, as Georgia Tech won a long rally to win the match.
K-State will be back in action on Saturday with two more matches from O'Keefe Gymnasium. The Wildcats will first take on Louisville at 9:30 a.m. Central and then face Tennessee Tech at 3:30 p.m. Both matches can be heard on 1350 KMAN.