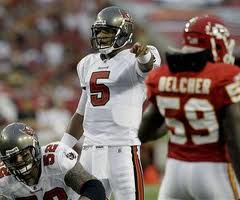 KANSAS CITY, Mo. (AP)   The Kansas City Chiefs and Tampa Bay Buccaneers are getting ready for their first preseason game Friday night, and nobody is quite sure what to expect.  After the NFL lockout resulted in a most unusual training camp, the two teams will hit the field under the lights trying to answer plenty of questions.  Who's in shape?  How much are rookies grasping the playbook? What should be the next step in practice?
Chiefs coach Todd Haley is approaching the game as simply another opportunity for evaluation, while Tampa Bay coach Raheem Morris wants to "see who responds" on the professional stage.  It's also a homecoming of sorts for former K-State quarterback Josh Freeman, who's one of the best young signal callers in the NFL with the Bucs.
KC and Tampa Bay hit the field on Friday night at 7:00pm at Arrowhead Stadium.  Coverage from the Chiefs Fox Football Radio Network begins at 6:00 on KMAN.