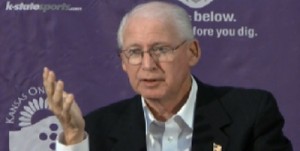 Click image above for full video recap of Tuesday's press conference from the staff of Powercat Gameday.
Coach Snyder and the Cats opened up the first press conference of the regular season on Tuesday.  With the contest coming up against the Eastern Kentucky Colonels there are still several questions looming for the Cats.  Coach Snyder addressed the questions at running back as well as the offseason progress of QB Collin Klein.  Also interviewed were OL Clyde Aufner, DB Tysyn Hartman, and LB Emannuel Lamur.  Powercat Gameday's Matt Walters has the recap from the day's event.  Video by John Kurtz.
C0verage of Saturday's season opener betweeen the Wildcats and the Colonels of Eastern Kentucky begins at 2pm with Powercat Gameday.  Kick off is set for 6pm.
Free K-State Video coverage available at www.thegamedaynetwork.com