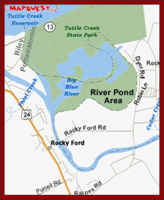 TOPEKA, Kan. (AP) State officials have now issued a warning about toxic algae blooms in another area waterway and continued their warning for a federal reservoir in the area.
The new warning from the Kansas Department of Health and Environment is for River Pond at Tuttle Creek State Park in Pottawatomie and Riley counties, though it does not apply to Tuttle Creek Lake itself.
The ongoing warning is for Milford Lake in Clay, Geary and Dickinson counties.
Both have blue-green algae blooms, and KDHE says people should avoid wading, swimming and skiing at both.
The department says people have been sickened and three dogs have died in the past few weeks through contact with water from Milford Lake.