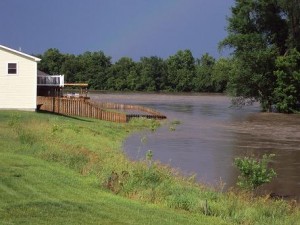 The Wildcat Watershed area working group met for the first time last night to discuss mitigating flood damage, and providing a more robust alert system in time of flooding.
The meeting's agenda included an overview of the flooding, damage assessments, best management practices, and then goals for making improvements.
City Planner Chad Bunger defined some of the terms utilized in analyzing flooding issues which included Flood fringe, floodway, and the one-percent annual chance floodplain.
The meeting caused some spirited debate about what had actually caused the flooding, and possible solutions to those issues. After ascertaining some of the key issues facing the committee co-chair Richard Jakovich worked with the other members to set a new meeting date for the committee. The working group will be reconvening on August 11th at 6:30pm. The location is to be determined.