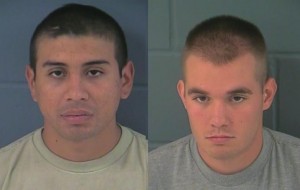 Arrests have been made in Junction City in connection with several recent damage to property cases.
Arrested Wednesday were Wayne King, 20, and Dean  Murrietta Jr, 24, both soldiers stationed at Ft. Riley.
The Junction City Police Department worked eighteen complaints involving damage to property, and one complaint of arson where a vehicle was set on fire early last Friday. The damage to property complaints involved three Junction City businesses having windows broken and 15 vehicles having one or more windows broken out of the vehicle.
The vehicle that was set on fire was a total loss with a value of $15,000.
This investigation continues and more arrests are anticipated.