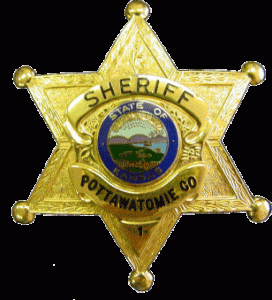 The Pottawatomie County Sheriff's Office arrested 2 individuals Wednesday who are believed to be responsible for at least 10 or more burglaries in the Olsburg, Westmoreland, Louisville, and Wamego area. Over the past several weeks, the Sheriff's Office has taken multiple reports of burglaries and thefts to garages and vehicles. Items reported stolen were tools, fishing equipment,tackle boxes, boats, a trailer as well as other misc. items.
Detectives and Deputies developed a suspect and went to an address in Westmoreland Wednesday. At this address, stolen property was located and recovered. At a second address in St.George, additional stolen property was recovered, as well as stolen property recovered from the suspects vehicle.
Taken into custody for Burglary and theft on August 31st are:
26 -year-old Steven Taylor of Westmoreland was taken into custody, with bond set at $50,000. 21-year-old Clifford Walsh  of St.George is in custody, with bond also set at $50,000.
The Sheriff's Office has recovered approximately 10-thousand dollars worth of stolen property. Some of the property includes air compressors, a generator, tackle boxes and trolling motors. These items are believed to be stolen however some items remain unclaimed as the victim have not yet reported their loss.
Anyone with information on this case is asked to contact the Pottawatomie County Sheriff's Office at 785-457-3353.