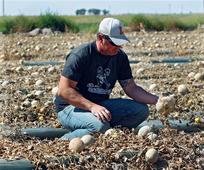 A pallet of cantaloupes at the heart of a nationwide recall due to listeria was sold in Manhattan. Terri Olsen with Eastside and Westside Market says they received the shipment of Rocky Ford Canatloups from Jensen Farms in Holly, Co., on August 24, and that they were sold prior to notification of infection.
Olsen urges anyone who purchased the cantaloupes to be tested for listeria infection, as symptoms may not show for up to two months.
The Centers for Disease Control Tuesday linked 72 illnesses and 13 deaths to the tainted fruit, though officials are investigating three additional deaths they believe are connected.
As concerns spread about cantaloupe,  Manhattan's Downtown Farmers Market Manager Christie Cady  tells KMAN she has checked into whether her market has had any of the problem melons. She says one vendor who had sold cantaloupes in the last month or so  indicated to Cady they did not purchase their cantaloupe from the Jensen farm, and that their cantaloupe was free of any contamination.
However, Cady adds if a consumer is unsure of the origin, then it would be best not to purchase it at this time.
Calls to Kroger, Hyvee, and Ray's Apple Market by KMAN revealed none had received shipments of Rocky Ford Cantaloupes during the time frame.