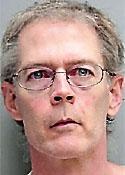 LAWRENCE, Kan. (AP) A former Kansas State University English professor is challenging the legality of his prison sentence for a first-degree murder conviction in the death of his ex-wife.
Thomas E. Murray is serving a life sentence with no chance of parole for 25 years for the stabbing death of Carmin Ross, whose body was found in November 2003 in her home north of Lawrence.
Murray filed a lawsuit in Douglas County District Court claiming there were problems with the state's DNA evidence at his trial.
The Lawrence Journal-World reports Murray's appointed attorney is arguing the state's DNA expert initially found an "unknown contributor" in a blood sample in Ross' bathroom mixed with the Ross' blood.
Attorney Jessica Kunen says the expert testified at trial he believed the DNA belonged to Murray.