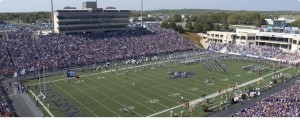 The main advice for getting to the Kansas State football games on time this year is to start out early. That was the word from Kansas Highway Patrol Lt. Gerg Harkrader, who admits there will be additional challenges this year with work on K-18. But he reminds KMAN he and his officers are used to dealing with heavy traffic on football days…
K-18 while under construction is a 55 mile per hour speed zone–although Harkrader expects traffic to be traveling at a speed quite a bit less than that on football game days.
Harkrader says the morning games are always the trickiest to deal with.
Kick off for Saturday's game is six p.m.
And football games tend to be accompanied by alcohol–but a reminder that Kansas State Police will keeping a close watch on tail-gaters and football fans. Kansas State Police Captain Don Stubbings tells KMAN less alcohol consumption also leads to less problems in other respects for his officers.
Stadium alcohol rules and regulations remain the same and apply to everyone. A few designated areas allow alcohol, but a majority of the stadium parking lot is supposed to be alcohol free.
Here are interviews conducted by KMAN's Cathy Dawes with Lt. Harkrader and Capt. Stubbings: