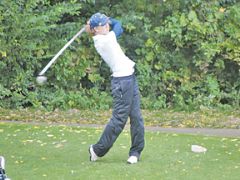 – The Manhattan High girls golf team placed second in a nine holf tournament on Tuesday afternoon at Salina Municipal golf course. Garden City won the meet by five strokes over the Tribe, which shot a time score of 148.  MHS was led by Jenna Cruisenberry with a 35, and Blake Fingalsen with a 36.  MHS has a couple weeks off until they go to the Salina South Invitational.
– Wamego volleyball is off to hot start, and they remained undefeated Tuesday night with a sweep of Clay Center.  The Lady Raiders beat the Tigers 25-23 and 25-17 in the first match, and 25-7 and 25-14 in the second.  Wamego is 9-0 overall and 2-0 in the NCKL this season.
– The Blue Valley volleyball team was swept in a triangular on Tuesday night at Wetmore.  The Rams fell to the Cardinals 25-14 and 25-10, along with a loss to Valley Heights, 25-15 and 25-15.
– Frankfort volleyball went 2-1 at a quad in Baileyville.  The Wildcats beat Hanover 25-13 and 25-19, defeated Bern 22-25, 25-18 and 25-14, but fell to B&B 25-7 and 25-4.