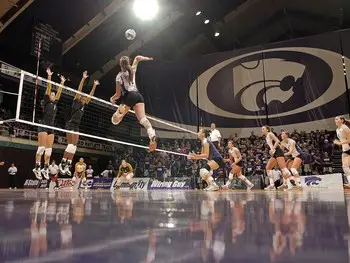 (Courtesy K-State Sports Information)
MANHATTAN, Kan. – The Kansas State Wildcats edged out a win over the Drake Bulldogs on Monday night in a match Head Coach Suzie Fritz said was not her team's best effort but it was still a win. K-State got the victory 25-22, 30-28, 23-25, 19-25, 15-9 led by an impressive showing from middle blocker Kaitlynn Pelger with 32 kills.
Pelger's kill total is a new career-high and ranks fifth in school history for a five-set match. She also added 18 digs for another career-high. She was just two digs shy of the rare 20/20 double-double, which has not been accomplished by a K-State player since 2000. Setter Caitlyn Donahue also almost accomplished the feat as she had a career-high 61 assists and contributed 17 digs to the defensive effort.
Fritz said despite the efforts from Pelger and Donahue, the entire team's effort was not what she had hoped for considering how her team performed in winning the Dr. Mary Jo Wynn Invitational this weekend.
"I thought we played extremely poorly until game five and one game isn't going to get it done. I feel very fortunate to get a win tonight," Fritz said. "It's hard for me to talk about being disappointed when we win, but I felt coming off of this weekend where we played really well that we would play better tonight. We have to have that sense of urgency we had in the fifth set."
That sense of urgency in the fifth set sparked the Wildcats to the victory as they rolled to the win 15-9 on a run of kills by Pelger. The sophomore pounded out seven kills on nine swings without an error to hit .778 in the set and lead the team to the win. Pelger even closed the match with another solo block similar to the five-set win over Missouri State on Thursday.
Fritz, however, said her team struggled offensively against the Bulldogs as Drake played a solid match paired with her team's poor performance.
"We talked a lot about not taking them lightly, and I thought they played really well. Drake did three things really well. They served well. They dug an enormous amount of balls and the played with low errors," Fritz said. "We had a hard time putting balls down on them and it's a testament to how Drake played. I hope our team learned a lesson from this match because people are going to give you their best and we've got to give it right back at them."
The Wildcats had one of their biggest nights of the season from a digging perspective as four players posted 15 or more digs in the win. Pelger and libero Kuulei Kabalis led the team with 18 digs apiece while Donahue and Tristan McCarty each had 17. The mark was a new career-high for McCarty as well. The team tallied a total of 97 digs.
K-State will take Tuesday off before travelling to the West Coast on Wednesday for a tournament hosted by Saint Mary's. The Wildcats will open with a match against Sacramento State on Thursday before taking on Utah Valley on Friday and the hosting Gaels on Saturday.