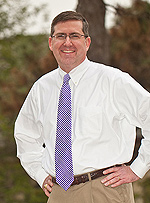 A good conversation often requires several things: the right setting, good ideas, and someone who is willing to listen. Coffee and pastries don't hurt either.
That was the setting earlier this month for the annual Legislator's Day at the Kansas State Fair. Kansas State University president Kirk Schulz attended the event and says he appreciated the informal atmosphere because it allowed people to discuss things in a different way.
Schulz thinks legislators are aware of the budgetary concerns of K-State and all the Regents' Institutions.
Schulz advocates for funding for both K-12 and higher education. He also thinks Midwesterners have lost some of the pride they use to have in the educational systems in their state and that they need to be reminded of the importance of supporting and funding education.
Legislator's Day was held September 10th at the Kansas State Fair…which ended its 10-day run in Hutchinson Sunday.