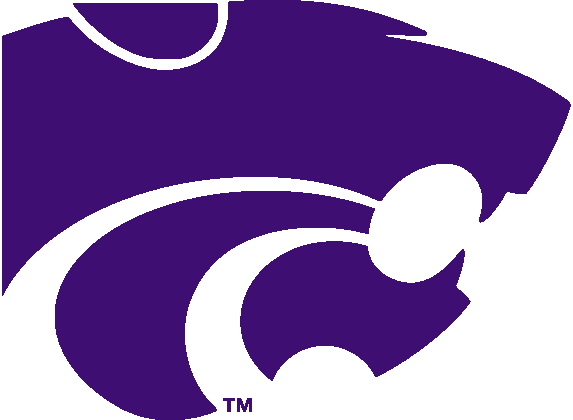 (Courtesy K-State Sports Information)
MANHATTAN, Kan. – The Kansas State Wildcats fought tooth and nail with the BYU Cougars but could not come up with enough as the Cougars were able to push away late in each set for the win and the title at the Varney's Invitational. K-State fell 23-25, 19-25, 23-25 as BYU took advantage of its size up front for the win.
BYU's Jennifer Hamson stands 6-6 and led the way with 17 kills on a .438 hitting percentage. She along with middle blocker Nicole Warner played a role in BYU's 11 total blocks on the day to help slow the Wildcats down.
K-State (4-3) was led by sophomore middle blocker Kaitlynn Pelger with 20 kills on a .278 percentage and was named to the Varney's Invitational All-Tournament Team. Lilla Porubek also made the All-Tournament Team and added 10 kills for the Wildcats while libero Kuulei Kabalis contributed 10 digs for the defense.
BYU (5-2) was riding the momentum of winning the first two sets through the third until the Wildcats found a way to stop the Cougars on the left side momentarily. The Wildcats went on an 8-0 run in the third set to go ahead 12-9 storming back from a 4-9 deficit. During that stretch, K-State posted three blocks all against BYU's Katie Vaughn with Kathleen Ludwig and Alex Muff assisting on the stuff.
The two teams would remain close the remainder of the season and BYU would reclaim the lead with a 3-0 run of its own to go ahead 18-16. K-State would battle back to tie it up at 22 and 23, but the Cougars found a way to close the door with another kill from Hamson and a block by Warner and Vaughn.
K-State Head Coach Suzie Fritz said her team did not come out strong enough early and had to overcome that by getting comfortable.
"I think today was more of what we weren't doing than what they were doing," Fritz said. "We were not good in terms of discipline. We seemed very uncomfortable, I think until about midway through the first set. We were inconsistent against BYU. They made us play and we didn't make them play."
The Wildcats know there is room to improve and they must now begin to prepare for the next nonconference tournament on the schedule next week.
"It was a missed opportunity," said junior opposite Kathleen Ludwig. "This was a good match to play at home and I think if we had showed up a little earlier maybe we could have had that match. BYU had a good rhythm going on their side, and we weren't really playing in system early on."
Ludwig's three blocks helped the Wildcats push back against the Cougars, but it was not enough. Porubek echoed Ludwig's sentiments that the Wildcats could have played better and said she and her teammates will work hard to improve in practice.
"I think we played hard but we can play better. It's still the beginning of the season and we still have things we need to work on," Porubek said. "I can't speak for the other players, but myself as an outside hitter, I personally think I need to be more creative. I'm still young and I have a lot I can learn about volleyball to get better."
The Wildcats will travel to playing the Dr. Mary Jo Wynn Invitational hosted by Missouri State next week. K-State will take on Hofstra, South Dakota and host Missouri State beginning on Thursday.
Varney's Invitational All-Tournament Team
Allison Walker – Idaho
Bethany Sanford – Georgia Southern
Kaitlynn Pelger – Kansas State
Lilla Porubek – Kansas State
Nicole Warner – BYU
Jennifer Hamson (MVP) – BYU