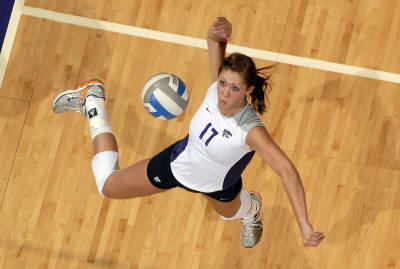 (Courtesy K-State Sports Information)
Kansas State middle blocker Kaitlynn Pelger leads the Big 12 Conference in kills heading into league action this week and was recognized Monday with her first Player of the Week award this season. The sophomore helped guide the Wildcats to four wins, including three at the Saint Mary's Tournament to win the title at the event en route to Big 12 Offensive Player of the Week.
Pelger continued to assault opponents this weekend as she averaged 5.19 kills. She is now averaging 4.73 on the year to lead the Big 12. In addition to her impressive kill production during the four wins last week, Pelger posted a hitting percentage of .345. Pelger was a force in nearly every stat area averaging 2.94 digs per set and 1.06 blocks as well.
She opened the week with a career-high 32 kills at home against Drake. The mark also ranks fifth in school history for a five-set match. Against Drake, Pelger added 18 digs for her then fourth double-double of the season. She kept that pace going at the Saint Mary's Tournament this weekend as she averaged 4.64 kills over three matches in California to earn tournament MVP and help the Wildcats to three wins over quality opponents.
Against Sacramento State, Pelger pounded out 22 kills over four sets while hitting .357 to along with a pair of aces, nine digs and four blocks. In a sweep over Utah Valley, Pelger notched 11 kills and three blocks. She closed the tournament strong against the hosting Gaels with 18 kills in the four-set win with a .429 hitting percentage. She took control of the match as she added nine digs and a pair of aces to her stat line. She also closed the week with six block assists in the win over the Gaels, who were receiving votes in the AVCA Coaches Top 25 Poll.
Pelger is the only player in the Big 12 to be listed in the top 10 in five statistical categories as she ranks No. 1 in kills, No. 1 in points, No. 4 in hitting percentage, No. 3 in aces and No. 8 in blocks. She leads in kills by 0.39 per set and the next four listed are all seniors. She was joined by Tayler Tolefree of Kansas and Khat Bell from Texas on the awards list this week. Tolefree was named Defensive Player of the Week and Bell earned Rookie of the Week. This is Pelger's first Offensive Player of the Week honor. She was named Rookie of the Week in the final week of the 2010 season.