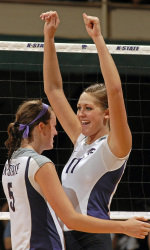 (Courtesy K-State Sports Information)
A day after receiving her first Big 12 Offensive Player of the Week award, Kansas State middle blocker Kaitlynn Pelger was named the CVU.com National Player of the Week on Tuesday.  This is the second time this season Pelger has been recognized by College Volleyball Update as she was listed among the website's Top Performers last week.
Pelger led the Wildcats to four wins last week and averaged 5.19 kills per set while hitting .345. She was solid defensively for K-State last week as well posting 2.94 digs per set and 1.06 blocks. With her strong offensively numbers, Pelger improved her season kills average to 4.73 per set to remain atop the Big 12 Conference in kills heading into league action this week.
The sophomore opened the week with a career-high 32 kills at home against Drake. Pelger added 18 digs for her then fourth double-double of the season.   Her impressive numbers would continue at the Saint Mary's Tournament where she earned MVP honors. Pelger pounded out 22 kills over four sets while hitting .357 to along with a pair of aces, nine digs and four blocks to open the tournament against Sacramento State. She notched 11 kills and three blocks against Utah Valley. Pelger closed the tournament strong against the hosting Gaels with 18 kills and a .429 hitting percentage. She added nine digs, a pair of aces and six blocks to her stat line.
Pelger is the second Wildcat to receive CVU.com National Player of the Week with setter Stacey Spiegelberg receiving the honor during the 2006 season. Pelger and the Wildcats open Big 12 action this weekend when they host the Baylor Bears at 7 p.m. Saturday in Ahearn Field House.