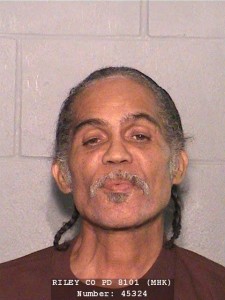 Two victims have been identified in the aggravated burglary case that involves 56-year old George Morgan of Manhattan.
Riley County police have learned the two victims are 21-year old Emily Kenney of 515 Pierre and 81-year old Norma Lewis of 1020 Pierre. Kenney reported that she did not see anyone in her home but had noticed that windows had been broken and that a knife was stolen from her kitchen. Shortly after Kenney reported the incident, Lewis entered her home to find Morgan inside. Lewis struck Morgan and told him to leave. Police arrested Morgan shortly after the altercation.
RCPD completed a search warrant at Morgan's home located at 916 Pottawatomie Avenue. RCPD recovered a number of items, predominantly jewelry, that are believed to be stolen.
Morgan remains confined in Riley County jail with a $50,000 bond.