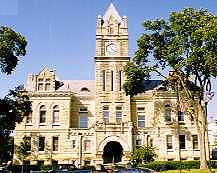 A hearing was held at the Riley County Division III court today (Thursday) on motions from the defense for former Manhattan High School student Cole Drake.
The 15 year old Drake is charged with 1st degree murder and aggravated burglary in the shooting death of 14-year-old Tyler Dowling in April. The motions today (on Thursday) were brought forward by defense attorney Brenda Jordan to suppress statements made at the Riley County Police Department headquarters on April 14th when Drake confessed to the crime.
Defense attorney Brenda Jordan argued that her client and his mother were told by detectives that they could stop the interviews at any time. However, during one point of the questioning Riley County Police department's detective Brek Jager physically restrained Drake's mother in another room as Drake confessed to the crime in a separate interview room. Special investigations detective Jager testified that he was ordered to do so by his Captain before he took her to the room.
Jordan pointed out that time and time again when interacting with police they asked for the mother's permission, and never asked for Drake's input until the time of the confession. Jordan stated that Detective Runyan had to correct some of Drake's mistakes as he read the Miranda rights back to him, and did not know if Drake actually comprehended those rights.
Riley County Prosecutor Barry Wilkerson argued that Drake was cognizant of his situation, and that the interview was valid as it applied to precedents in Kansas's law. The prosecution also called Eisenhower principal Greg Hoyt to the stand to testify to the fact of Drake's ability to comprehend at an 8th grade level.
A ruling on the matter is expected at a later date.