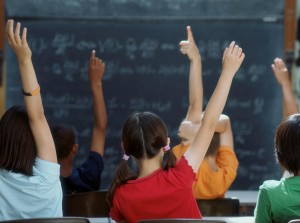 Most area schools report not much difference in numbers for September 20th, the official count day that determines the bulk of enrollment and financing for school districts.
USD 383 still reports about an increase of 69 students with its bricks and mortars buildings, and up about 83 if virtual students are included.
USD 378 Superintendent Brad Starnes says his was one of the district's with not much change from earlier in the year. Riley County was even in headcount, but up about 2.5 due to kindergarten special education students being counted as full time.  Out of district students showed a 21 percent increase, the highest ever in the district. Military students are up a little bit in Riley County, with a total of 75 students.
USD 323 was up ten from last year and is now at 883.  St. George Elementary School went down a little, while Westmoreland Elementary was up slightly, which Rock Creek Superintendent Darrel Stufflebeam says is a reversal of past trends.  The junior/senior high school is up ten—largely due to a small graduating class last year. Stufflebeam adds a lot of new housing is still taking place around SGES so they expect continued growth in that area.
Blue Valley/Randolph was down about a dozen students, while Wamego's USD 320 was still putting numbers together.