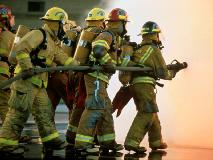 Riley county firefighters had a busy weekend, fighting two major fires. Several outbuildings were destroyed or damaged in a fire at 8080 Anderson, belonging to Fred Schurle. Riley County Fire Chief Pat Collins tells KMAN the fire apparently started with burning of trash that got out of control.
In addition to the outbuildings, miscellaneous items stored between the buildings were destroyed. Three buildings were destroyed and two were damaged.
A firefighter was taken to the hospital by private vehicle for treatment related to the heat. 10 trucks from six different stations and 33 firefighters responded. The Manhattan Fire department helped with filling tanks.
And Saturday a 38 foot R-V was destroyed on Tuttle cove Road, with an estimated $150,000 loss. Collins says that fire apparently started in the electric/propane refrigerator of the RV. The 2004 R-V's owner is listed as Robert Finley.
Seven trucks from five stations responded and Blue Township assisted. It took a couple hours to put out the blaze, reported at about one Saturday afternoon. Collins indicates the heat caused some problems for firefighters.