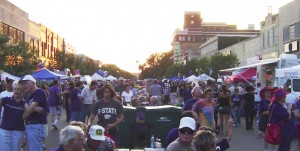 Anyone from the ages of one to 100 is encouraged to come out to Downtown Manhattan's Purple Power Play on Poyntz the next two evenings.  Downtown Manhattan Executive Director Gina Scroggs indicates everything is going great. She says a brand new line-up of entertainment on the stage is planned.
Downtown streets, by the way, will be closed beginning at two this (Thursday) afternoon. Events begin at six in the evening both days.
Scroggs says the event continues to grow, with 80-plus vendors this year compared to 50 in the past.