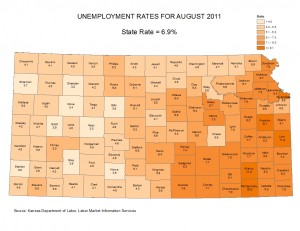 The City of Manhattan still has a relatively low unemployment rate, with numbers just released for August showing 4.8 percent, actually down a tenth from last year at the same time. the Manhattan metropolitan area, which includes Riley, Pottawatomie and Geary counties, has a 5.9 percent rate.. the same as last year.
Area county unemployment rates included Riley with five percent, down a tenth from last year, Pottawatomie county with 5.6 percent, also down a tenth, Clay with 5.3, up from 4.8 in August of last year, And Geary, which always tends to be high had 8.7 percent.. up from last year's 8.3.
And Manhattan still compares very favorably with other parts of the state when it comes to unemployment numbers.
The Manhattan metro area's 5.9 percent is the lowest of the six metropolitan areas in the state. Again, the city of Manhattan's rate by itself is 4.8 percent The only city in the state with a lower level is Leawood with 4.3 percent.