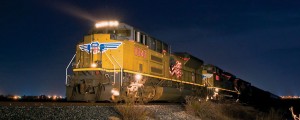 A broken rail is being blamed for the Union Pacific train derailment in Pottawatomie county early Monday. Spokesman Mark Davis indicates the line through Emmett reopened shortly before noon Wednesday.
The train was hauling coal from Wyoming to Oklahoma, and included 134 cars. It derailed just before four a.m.
There were no injuries.