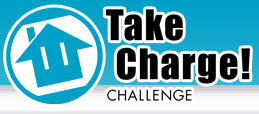 With the finish line of the Take Charge! Challenge right around the corner, any way to get points helps Manhattan with the chance of beating Lawrence and receiving the award.
This past weekend, Westar and the UFM Community Learning Center co-hosted the Home Energy Savings Workshop at the Leadership Studies building on the Kansas State campus.
 Laura Lutz, Account Manager in Energy Efficiency, talks about the challenge and the standings thus far .
Though there was a majority of home owners attending, Kansas State University had some representatives at theworkshop.
During the workshop there were hands on demonstrations that allowed people to become familiar with products like foam insulation and caulking.  There were also weatherization kits for sale.