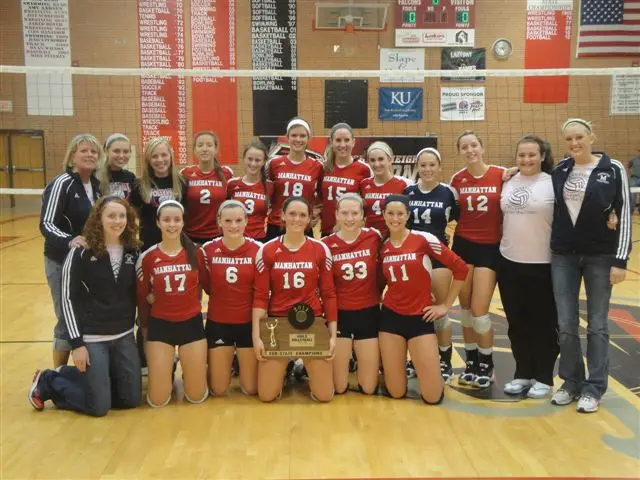 – Manhattan High volleyball will get the chance to defend their 6A state title this weekend in Topeka.  The Indians won their substate in Wichita on Saturday with a 25-12, 25-14 victory over Topeka High in the semis, and a 25-20, 28-26 win in the finals over Wichita Heights.  30-9 MHS is the #4 seed in the state tournament, and will open with 5th seeded Blue Valley North on Friday at 4:30pm at Kansas Expocentre in Topeka.  The Indians will also play pool play matches against #8 seed Wichita Northwest at 6:30, and #1 seed Washburn Rural at 8:30.  The semifinals and finals will be on Saturday.
– Wamego nearly qualified for the 4A state volleyball tournament, reaching the substate finals at Royal Valley.  The Lady Raiders and Holton split the first two sets, before the Wildcats pulled out a 25-23 win in the decisive 3rd set.  Wamego finishes the season 31-7.
– A number of area teams and athletes qualified for the state cross country championships this weekend.
– Both Manhattan High cross country teams came in 3rd place in their regional meet at Warner Park to punch their ticket to Rim Rock.  Alaina Schroeder (Schray-der) won the girls race with a time of 14:34. The Indian boys will run as a team at state for the first time in two years.
– Wamego boys and girls will each be in the 4A state field as they host the cross country championships once again.  The Lady Raiders finished second at the Concordia regional on Saturday.  The Wamego boys easily topped the regional team standings as Hudson Philip was the individual runner-up.
– The Riley County girls qualified for state by winning the 3A regional they hosted at Leonardville Golf Course.  Stacy Pachta won the race with a time of 16:14.  The Falcon boys will send one athlete to state, Nate Elder was the meet runner-up.  Rock Creek also qualified one boy and one girl runner for state in Leonardville, Ryan Schneider and Jacy Johnston.
– A 1A regional was also run in Leonardville, and Frankfort also will send a pair of runners to state.  Adam Koch (Cook) was the runner-up in the boys race and Mollee Weber qualified in the girls 4K.