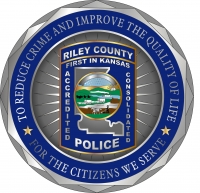 Riley County Police have arrested Garrett Goetz, 24, of Manhattan following an incident at the intersection of Kimball and Browning Avenues Saturday evening which saw him get into a confrontation with Officer Julia Goggins.
Goetz allegedly shot Goggins with a Crossman pellet gun after she tried to remove Goetz from the intersection as he attempted to direct traffic following the K-State/Missouri football game. RCPD Captain Kurt Molrup says Goetz went into his residence near the intersection, where he proceeded to shoot the pellet gun at Goggins after pumping the gun several times.
Goggins was shot in the left temple and required medical attention to remove the pellet. Moldrup reports that Goggins turned her head as the shot was fired, which saved her right eye from damage and possibly ending her career.
Goetz was allegedly intoxicated at the time of the incident.
He is being held on a $35,000 bond for aggravated battery.