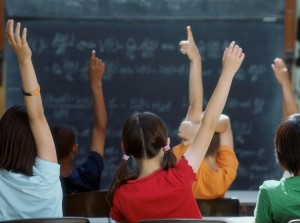 There was a lot of information and discussion that took place during the Manhattan Odgen school board.
The board started off the night with the reports.  This portion consisted talk of the enrollment report, the overtime report and the summer program report.  Carol Adams, executive director of teaching and learning, and Pam Russell, director of special education, gave a small presentation detailing the STEM program that occurred this past summer.
The board then moved on to construction issues.  Woodrow Wilson is looking to be moving the 6th graders back sometime soon, but there is still more phases that need to be completed on the building before it is done.  Because of this a Woodrow Wilson report will be a regular agenda item until construction is complete.  There was also a change order for Lee Elementary that passed unanimously.
The new business section consisted of the purchase of classroom projectors.  It passed unanimously.
Then there was talk of substitute teacher compensation which caused some debate among the board members.  The original motion was to increase the compensation by $3 a day, but the board ended up increasing that to $5 a day.  However, this motion passed with a 4-2 vote with Board Members Curt Herrman and Pete Paukstelis voting no.
The board is also continuing their talk with city and county officials concerning the sales tax issue.  They will be attending the next intergovernmental meeting.
The board ended the meeting with discussion on redistricting .  There was an issue that arose concerning 6th graders in the smaller schools.  There was talk earlier before the construction projects that there would, hopefully, be only one section of 6th graders in each of the smaller schools.  Though with redistricting this may be an issue.  It is something the board will have to continue looking into.