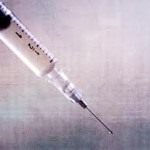 Flu season is here, and Riley County has had it's first official case of flu reported for this year's flu season. That's according to Riley County/Manhattan Health Department Administrator Chuck Murphy who told county commissioners a young Manhattan child tested positive for influenza type "A."
As of Monday, 13 type "A" H-3 viruses have been cirulating the country, with only three of the H1n1, which caused so many problems a couple of years ago. Murphy says the flu season began about week 41 and we're in week 43–and he recommends this is a good time to get in and get your flu shot.
Increased traffic at McDowell Creek road has received a lot of attention lately, with work on K-18. And Riley County Police noticed some increases during a quarterly report to county commissioners Monday. Sgt. Doug Wood says the quarter ended October first…
Wood says McCowell Creek road has had some accidents, and extra patrols have been added there in the last quarter due to reports of speeding.  33 citations have been issued, mostly for speeding. 23 written warnings have also bee issued in that area. Increased traffic has come from efforts to bypass K-18.
Wood reports 12 accidents on K-18 during the third quarter. October 14th there were three accidents in a single hour in that area, which hurt efforts some.