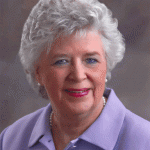 One would think Kansas Arts commission Chair Linda Browning Weis of Manhattan would be disappointed after word the National Endowment for the Arts would not accept the group's proposal to match federal funding with privately raised money. But she's been asked that question, and her response? "Quite honestly we haven't lost anything because until you have it, you haven't lost it." She says she learned a long time ago not to count on anything until you have it in hand.
Meanwhile, Browning Weis says commissioners remain united and focused on how to expand and support the arts in Kansas by maintaining and creating relationship with other arts agencies and developing an innovative funding plan.
And a public survey of Kansans has been conducted and will be posted on the commission's website.
Meanwhile, Browning Weis says the commission is moving forward with its own plan to support the arts through private funding, rather than to continue a pursuit of a partnership with N-E-A.