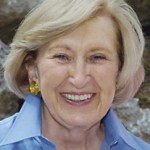 The Manhattan community is shocked by the weekend death of a community leader.
77-year old Eleanor Stolzer died Sunday after the vehicle she was traveling in overturned on U.S. 24 in Leavenworth County. Reports show Stolzer was traveling east in her 2009 four-door Mercedes about three-fourths of a mile north of Reno, Kansas. She failed to negotiate a curve in the road, losing control of her vehicle as it struck the guardrail on the right shoulder. Police arrived at the scene shortly after 5 p.m. to find the vehicle overturned.
Stolzer, who was not wearing a seat belt at the time of the accident, was pronounced dead at the scene.
She is survived by her husband L.W. "Bill" Stolzer, a 1957 graduate of Kansas State University and former Chairman of Commerce Bank in Manhattan. Eleanor Stolzer graduated from Kansas State with a bachelor's degree in home economics in 1956.
The death of Eleanor Stolzer is getting attention at the very highest levels, with Kansas State President Kirk Schulz commenting on her untimely passing. Eleanor and her husband Bill have made several donations to the the Kansas State University Foundation and K-State's Beach Museum of Art. President Schulz adds Mrs. Stolzer also played an important part in his welcome at Kansas State a couple of years ago.
Rich Jankovich, Manhattan City Commissioner and Senior Vice President of Commerce Bank, says he was very shocked to hear the news of Eleanor's passing. Jankovich says the Stolzer's have always been a very big part of Manhattan and its growth. Jankovich also mentions Eleanor's involvement with the K-State foundation and alumni association.
Again, Bill Stolzer survives of the home–Yorgenson Meloan Londeen Funeral home in Manhattan is handling arrangements.