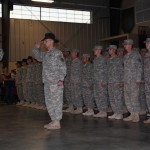 Family and friends welcomed home more than 200 Soldiers of the 1st Infantry Division's 2nd Heavy Brigade Combat Team Sunday evening during a redeployment ceremony on Custer Hill.
This was the third main group of "Dagger" Brigade Soldiers to return from Iraq after a one year deployment to Baghdad, where they served in an advise and assist capacity as part of Operation New Dawn.
Approximately 800 2nd Brigade Soldiers have now returned to Fort Riley, with several more flights scheduled over the next few weeks. The next group of returning Soldiers is expected on Wednesday, with almost 350 Soldiers slated to return.
All redeployment ceremonies will be held in building 88312 on Custer Hill. The ceremony times will be posted on the Fort Riley web site approximately one day prior.