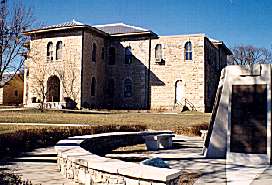 Charges have officially been filed against a Salina man involved in a three county chase the end of last week–and those charges are somewhat different than what was originally listed.
55 year old Robert Smith faces charges of attempted second degree homicide, possession of methamphetamine, aggravated assault of a law enforcement officer, aggravated battery and various other assault, fleeing and eluding, and crimiinal damage charges.
Smith's first appearance in Pottawatomie county Court is set for 2:30 today (Tuesday).
The chase involving a semi-Smith was driving began around midnight, Friday morning near Topeka, but ended up in Pottawatomie County. The truck had law enforcement officers from Pottawatomie County Sheriff's Office, Wabaunsee County Sheriff's Office and the City of Wamego Police Department involved in the pursuit.
The truck finally stopped after it became stuck and the officers took Smith into custody. Several injuries were reported from cars forced off the road.