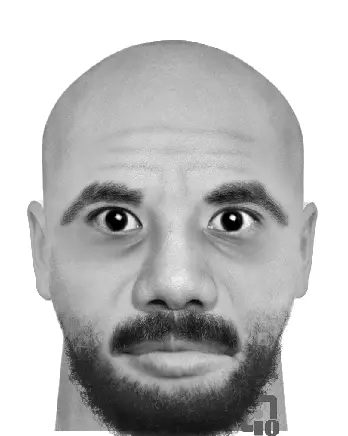 Riley County Police have released this sketch of the man they suspect was involved in the weekend shooting of a Fort Riley soldier in Ogden.
Investigators say 28-year-old Army Sgt. Ronald Evans Taylor was found dead late Friday after crashing his car into a house Ogden. The two-tour veteran of Iraq had been shot, but authorities have not said where the shooting occurred or how many times Taylor was hit.
The shooting occurred a few blocks from Taylor's off-post home in Ogden. Riley County Police are not commenting on whether he might have known the killer. They're also not talking about a possible motive, but say detectives have several theories.
Taylor was an Army X-ray technician and father of a young boy.
Meanwhile, the description of the suspect is of a  black male, 5'8″ to six feet tall, weighing approximately 180 pounds, probably 25 to 35 years of age. He was described as bald with a moustache and beard, and may have been wearing a green jacket at the time of the shooting.