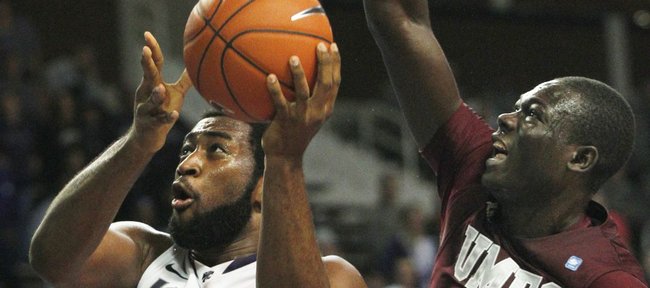 MANHATTAN, Kan. (AP)   Thomas Gipson scored 13 points and grabbed nine rebounds while Jamar Samuels added 12 points on 7-of-9 free-throw shooting to help Kansas State defeat Maryland-Eastern Shore 92-50 on Tuesday night.
The Wildcats (3-0) led just 36-29 at halftime after shooting 38 percent from the field, but they put the game out of reach in the first eight minutes of the second half with a 28-6 run.
The Hawks (1-4) kept it close early, with Percy Woods and Louis Bell combing to make 4 of 6 tries from 3-point range by midway through the first half.  Maryland-Eastern Shore trailed just 25-23 with a little more than five minutes left before the break.  Woods finished with 13 points while Bell added 10.  The Wildcats shot 18 for 23 from the free-throw line.  Rodney McGruder and Martavious Irving scored 11 points each for the Wildcats while Jordan Henriquez grabbed 10 rebounds.
The Cats don't play again until for over a week, next Thursday against George Washington at Bramlage Coliseum.  Tipoff is at 7:00pm and pregame begins at 6:00 on KMAN from the K-State Sports Network.  For a full video wrapup on the Cats and Maryland-Eastern Shore, go to thegamedaynetwork.com.