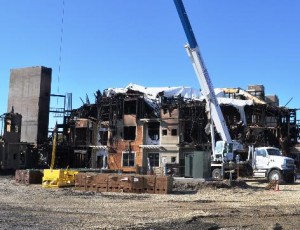 The National Response Team from the Bureau of Alcohol, Tobacco, Firearms and Explosives along with ATF special agents from the Kansas City Field Division, have joined the investigation of the Strasser Village apartment complex fire that occurred at 4th and Leavenworth on Nov. 6.
The NRT will team up with Manhattan Fire Department, Riley County Police Department, and Kansas State Fire Marshal's Office Manhattan Fire Chief Jerry Snyder made the announcement on Wednesday, saying that the outside agencies will help in providing much needed manpower.
"Both agencies bring expertise and equipment that we do not have," Snyder said. "This is a very complex fire scene. It was a very large fire with a lot of debris and it's going to take a huge crew to dig through all of that."
Snyder stressed that the presence of the NRT does not necessarily indicate that foul play was involved. The cause of the fire is undetermined at this point. There is no time table on when the investigation will be complete.