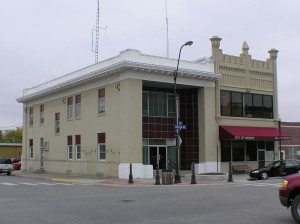 Wamego has amended its 2011 budget. At Tuesday's City Commission meeting, City Manager Merl Page recommended the governing body amend the 2011 budget in three different areas. He asked for an increase of $100,000 in the General Fund to reflect the budget authority to address the Burn Site issue, and the asphalt project undertaken that was outside the scope of the existing road budget. An increase of $300,000 in the Electric budget in response to the cost of wholesale power rate increases. Page said this increase gives the City budget authority transfer flexibility.
In addition, Page said the Convention and Visitors Bureau's (CVB) budget will receive additional funds because the bed-tax budget is up significantly. He said the CVB budget is a pass-thru account and the City may not need to budget it at all. Commissioner Bill Ditto said he'd like to see the bed-tax remitted and feels public disclosure is necessary so the business community can see the amount brought in and spent to benefit them and the area. The Board gave the authority to publish the budget amendment notice of hearing, which is required prior to year-end.
Now that Wamego's Burn Site is undergoing major cleanup, the next issue is sustainability.  Page said staff has been looking at the most reasonable approach to create a funding stream for long-term sustainability of the Burn Site, and feels the best option is to utilize equity transfers to fund the site rather than raise the mill levy. The City has provided this free Site for both business and homeowners to dispose of downed trees and yard debris to be burned. This is the only site within the city limits where burning is allowed. Going forward, the City is looking for a way to structure an ordinance to establish a rate structure, and will bring their recommendations back to the Governing Body.
In other business, the tax abatement request from Caterpillar Work Tools has been submitted to the State of Kansas for cost/benefit analysis. In accordance with the policy, the City needs to publish a public notice once the Commission has gone over the findings of the State's analysis.
Mayor Cliff Baughman issued a proclamation to recognize and honor the success of the Wamego Red Raiders Boys Cross Country Team, who were State Champions at the 4A State Meet held in Wamego on October 29th.