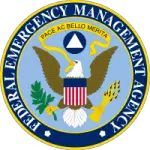 The United States department of Homeland Security's Federal Emergency Management Agency (FEMA) and the Federal Communications Commission (FCC) will conduct the first nationwide test of the Emergency Alert System Wednesday afternoon. The nationwide test will begin at 1 p.m, and is to last about 45 seconds.
Kent Cornish, President of the Kansas Association of Broadcasters,  reminds us a nationwide emergency alert system was put into place four decades ago–but it's never been tested. He says for listeners, it won't be the voice you usually hear–although the 45 second message will still tell you it's a test with the tones at the beginning and end.
The EAS is intended to be used as a communication device for the president to address the American public during extreme emergencies.
For more information regarding the EAS test, you can visit F-E-M-A-DOT-GOV (www.fema.gov)