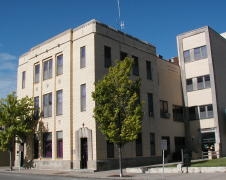 Riley County extension director Jennifer Wilson announced the results of this year's extension council elections on Thursday.
Elections are held each  year to rotate three new members into sub-committees, which are divided into four separate categories of agriculture, family and consumer science, 4-H youth development and community development.
The winners in agriculture are Jordan Hagenmaier, Steve Hargrave, and Greg Legleiter. Family and Consumer Science winners are Linda Teener, Susan Goff, and Kerry Wefald. 4-H Youth Development winners are Marjorie Devlin, Douglas Russell, and Sharon Dobesh-Beckman. Community Development winners are Darin Marti, Jay Terrill, and Sherrie Russell.
All committee members will meet at Pottorf Hall on November 30 to select – from the 24 total – nine who will serve on an executive board, which will consist of a chair, vice chair, secretary, treasurer and five other members.